Making dragon's beard candy
So what if my candy looked a lot more ragged than this? I had fun making it and delighted my friends.
Here's what I did last weekend. While I didn't do any hypnotic dancing with an announcer singing "Rainbow Connection" and a woman in a red dress waving feathers, I did make dragon's beard candy. (The video doesn't follow through to the end product, but bear with me; it's in the next one.)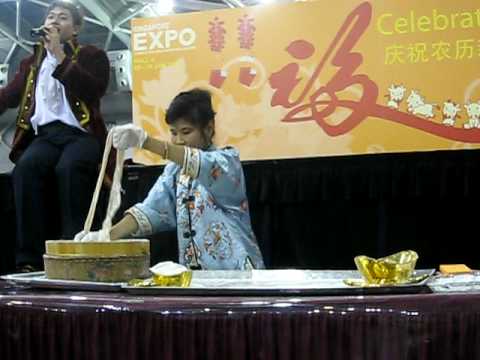 Dragon's beard is a threadlike candy that's pulled with the same technique that Chinese noodle makers use: Stretch a loop of raw material (cooked sugar, corn syrup, and vinegar for the candy; dough for noodles), fold up the loop in a figure eight, and repeat. After 14 folds, you get 16,384 hand-pulled strands–a hank of white sugar hair. It's almost magical, seeing ordinary ingredients transformed this way.
As much as I had a few problems–the sugar mixture took longer than 25 minutes to come up to the right temperature–the basic pulling technique did work, and the result literally amazed my friends. If there's a better reason to try a new recipe, I don't know what it is. You have to pay careful attention to measurements, temperatures, and times, and be prepared to fail (so what if you do?) and get cornstarch all over the counter.
Because my syrup cooked for longer than it should, too much of the sucrose "inverted" or split into glucose and fructose. That made it softer and less snappy (friable) than it should have been, so my candy was sticky and my little rolled pillows of candy were not as neat as in the photo above. But my messed-up attempts looked a lot like fake cobwebs, so could be passed off as Halloween spider's nests, if not dragon's beard.
Here's a much better how-to video, from Dave Arnold's post at Cooking Issues: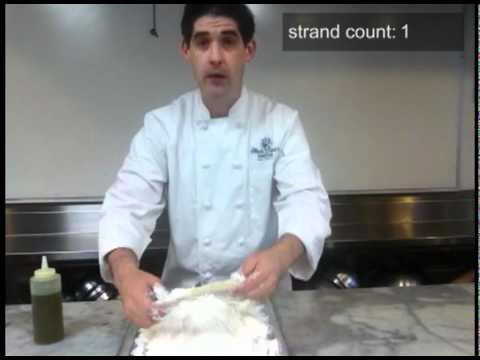 ---
---